Chaplaincy
The role of the Chaplaincy Leader is to provide for the spiritual, moral, ethical, and pastoral care of the school community and to promote Catholic values within the school. The Chaplaincy Leader consults regularly with the principal and attends a variety of meetings to support the staff and students. Also, the Chaplaincy Leader provides expertise in academic subjects on issues of spiritual, moral, and/or ethical significance where a Roman Catholic perspective is needed. By calling forth the talents and gifts of students and staff, the Chaplain helps to create a strong sense of caring and of social justice. The Chaplain shares in what makes SJC a special experience for all who are a part of our family. The Chaplain supports both staff and students on their faith journey. Students are welcome to drop by the Chaplin's office anytime.
Services to Staff and Students Include:
Retreats
School Masses
Volunteering
Prayer
Ministry to Sick and Bereaved
Ministry to Staff
Worship Band
The SJC Worship band started in the 2014/2015 school year. Originally the intention was to play school masses but eventually the band was given opportunities to play at Sanderson Centre, The Hamilton Diocesan Music Festival, and the Culture of Life Mass for Bishop Crosby.
This year in 2015/2016, SJC has a junior and senior worship band. The junior worship band has recently provided music for Sunday mass at St. Basil's as well as the St. Pius X Confirmation mass. Chaplaincy leader Andrew Hall and worship band members believe that music is a prayer that can bring the musicians and those who hear the music, closer to Christ. Both the junior and senior worship band recorded songs at Studio 410 in Hamilton during December 2015. The songs can be listened to by clicking the following links:
SJC Junior Worship Band https://sjcjuniorworshipband.bandcamp.com/releases
SJC Senior Worship Band https://sjcseniorworshipband.bandcamp.com/releases
Also, please see an article provided by The Brantford Expositor on the recording process http://www.brantfordexpositor.ca/2016/01/06/a-musical-way-to-worship
Eucharistic Minister Training
On September 18th, 2015, Fr. Tim Hingstron trained of SJC students to become Eucharistic Ministers. When students go to mass they will see their peers participating in the school choir, the worship band, and when they go to receive communion, they will receive it from their peers who serve as Eucharistic Ministers. The goal is to have students see their friends involved as much as possible during the mass. Besides being trained, Eucharistic Minsters are reminded that when the bread and wine become the body and blood of Christ, it's a miracle so when they distribute communion, they are in fact giving a miracle to those who come to receive.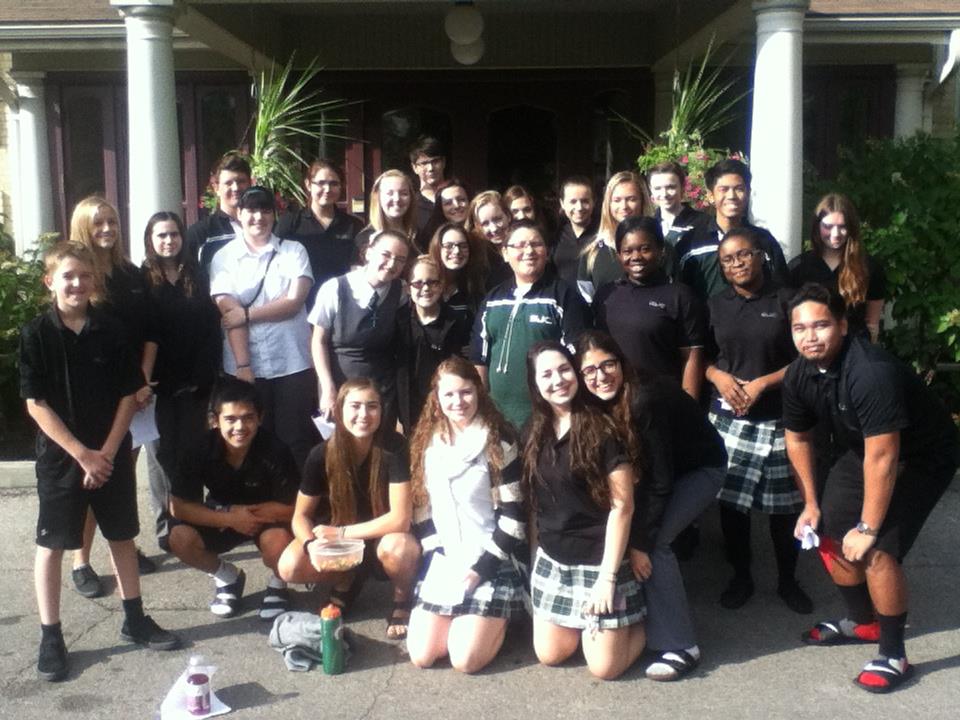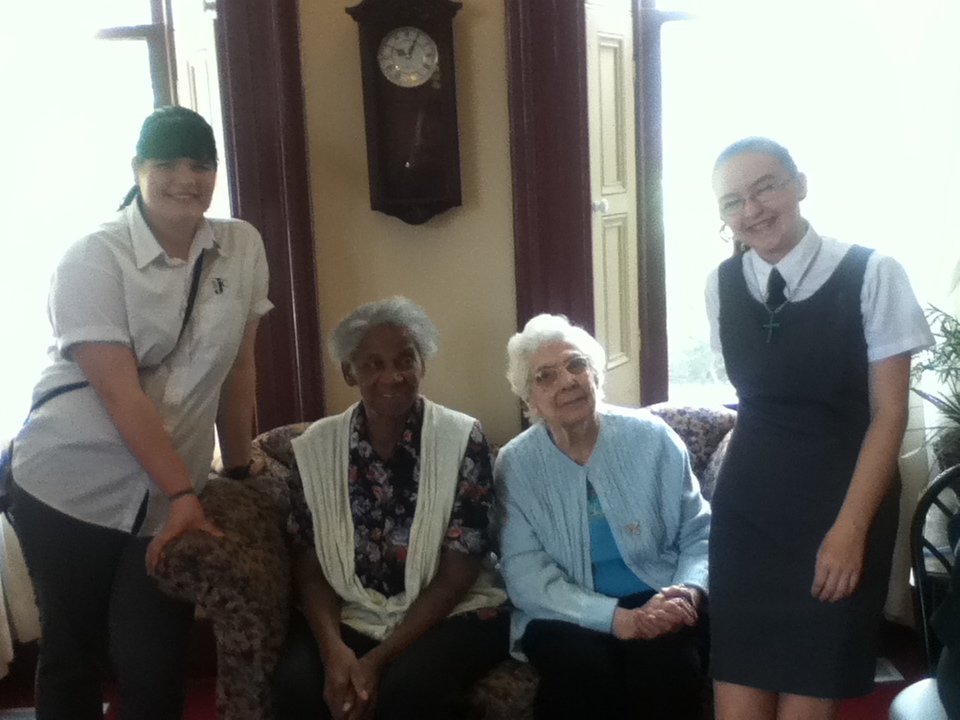 Mentoring Hearts
SJC is the first high school to utilize the Mentoring Hearts program. During the 2014/2015 school year, students from SJC visited Riverview Terrace residents three times. The last visit took place at SJC, where students decorated and had a breakfast put on for the new friends we made at from Riverview Terrace. This year in 2015/2016 we plan to do it again. The Bible reminds us that true and genuine religion is the following: Pure and genuine religion in the sight of God the Father means caring for orphans and widows in their distress and refusing to let the world corrupt you. When students visit the elderly, they are caring for widows and widowers, and those in distress as well as not letting the world corrupt them the notion that one of the biggest gifts you can give someone is your time. Please see coverage from the Brantford Expositor http://www.brantfordexpositor.ca/2015/03/06/st-johns-college-pairs-with-seniors-for-mentoring-hearts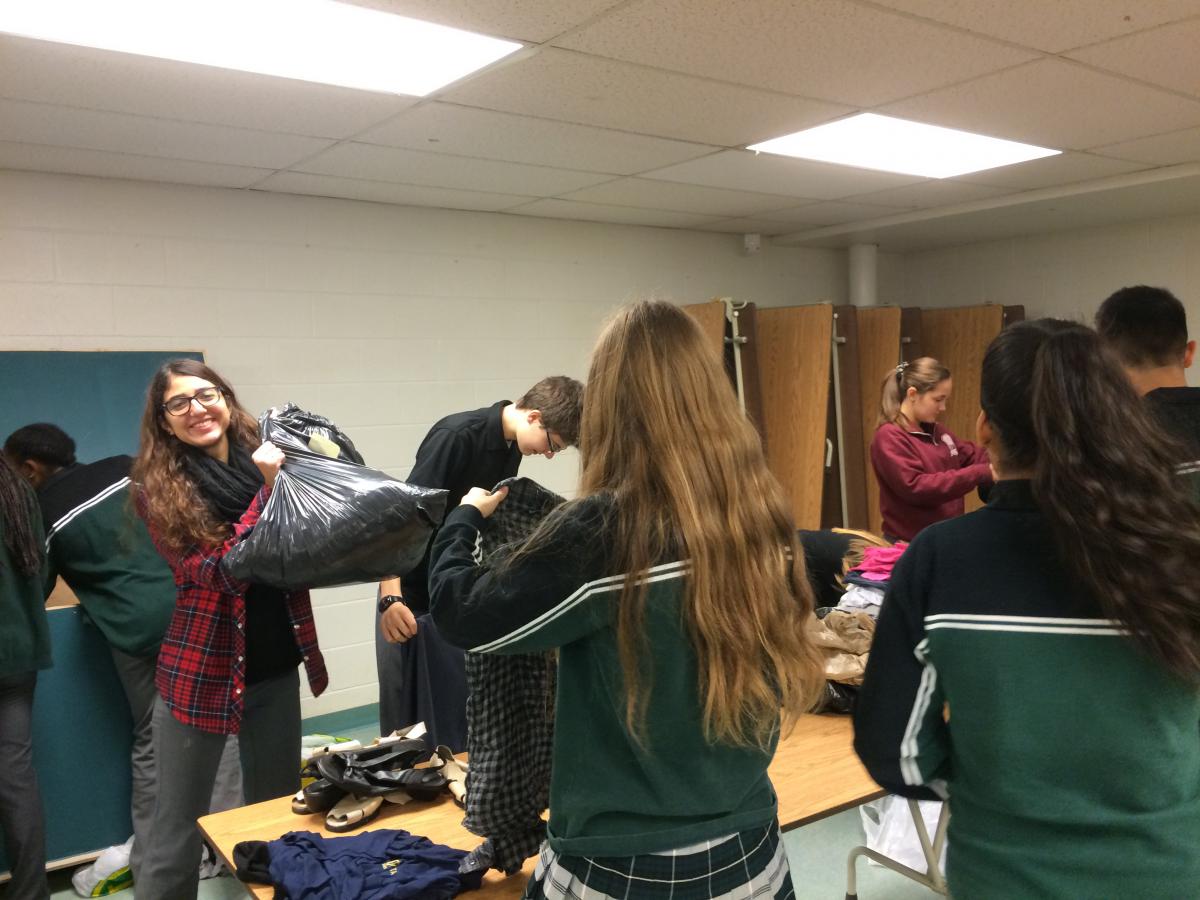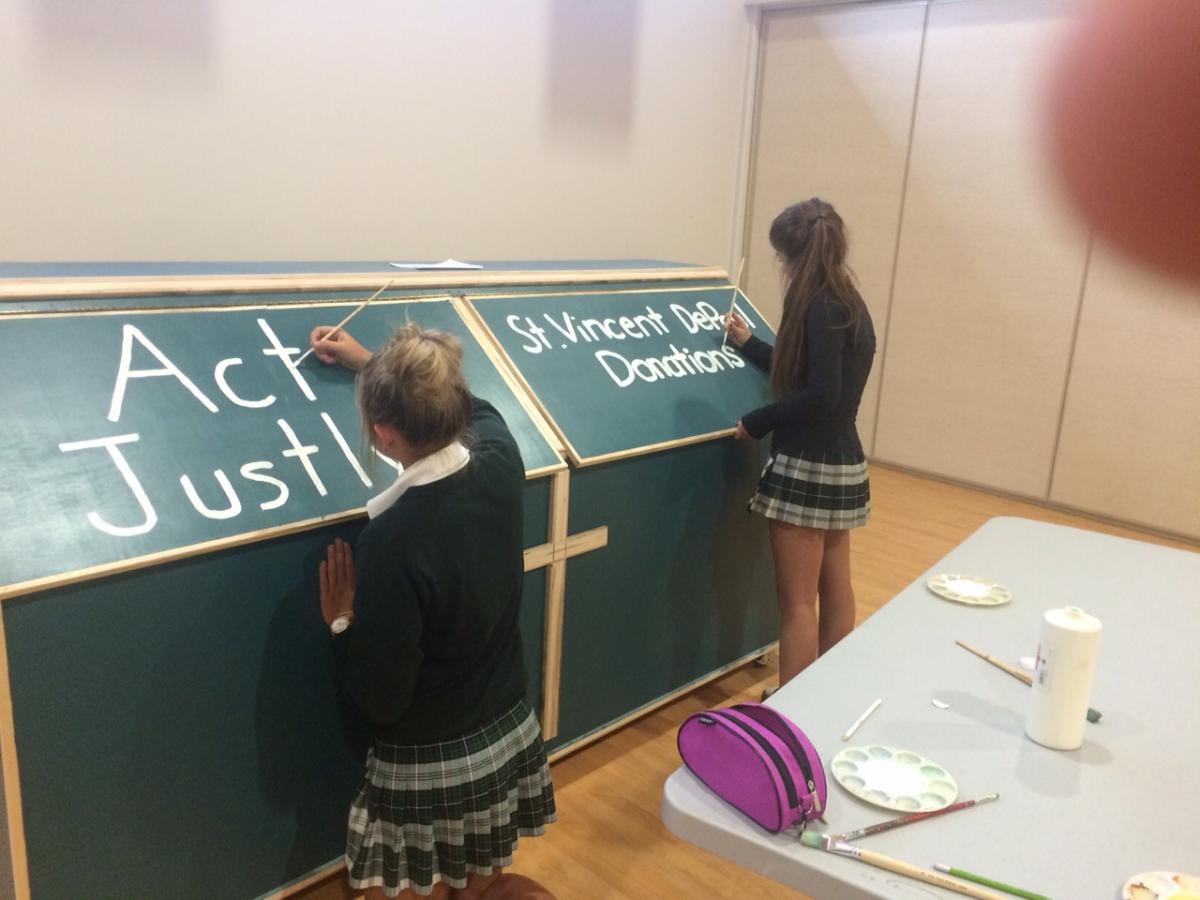 Make It Happen (MIH) Campus Ministry
Through our campus ministry group, we hope to make our faith come alive here at SJC. Through project and activity driven initiatives or by looking at the Gospel readings and applying them to our lives, we want our faith to shine and coming together through campus ministry is one big way to make it happen. Below is a picture of MIH sorting clothes from our donation bin for St. Vincent DePaul and our #AWESOMEGODCHALLENGE video https://www.youtube.com/watch?v=ZhzUohxkC1c

Gr. 10 Vocation Day
On Nov 23rd, 2015 SJC had a vocation day for all grade 10 students. Fr. Toby Collins and Sr. Teresa Joseph spoke to students on consecrated life. Christina Mines, director of youth ministry for the diocese of Hamilton spoke on married life and Andrew Beach, Pastoral Associate of St. Pius X Church in Brantford spoke on single life.
March for Life
Students from SJC attend March for Life in Ottawa. As a Catholic school community, we believe that life is sacred from conception to natural death.
Chapel
At
SJC we want the chapel to be a place where students actively go to pray and be present with the Holy Spirit. Students are given opportunities to pray in the chapel every Wednesday during lunch through forms of prayer such as Christian Meditation and using Divine Mercy Chaplets. Students also have opportunities for prayer in the chapel in the form of Eucharistic Adoration and through sports team prayer services as well.